Categories:
Other Brands
And again, the Spring Summer 2018 Collection will be filled with so much surprises and new handbags. Nicolas Ghesquière continues to revisit classic handbags and modernized them to use for today's trend. The Louis Vuitton Classic Duffle Bag is the reshaped version of the old Classic Bucket Bag in the 80's and 90's.
h2>The Design
The Classic Duffle Bag is a statement maker. It's built with a tight, curved armor-like body. And while it still maintains the classic feel, the overall look is also bolder and more urban-like.
This bag is ideal for day, evening and night. It's made with luxurious Cuir Orfèvre Calf leather, which makes it strong, impeccable but also smooth. The finest part is the oversized S-Lock crafted on the top. It's made in gold hardware and shines like the bright stars at night. The top also comes with a leather handle for hand carry. But you can also use the removable leather strap for easy-shoulder carry.
The Interior
The most amazing thing about a Duffle or Bucket Bag is the generous space. This bag's interior features one big compartment for all your necessities as well as a patch pocket. You can easily use this bag for work as it is big enough to store an iPad or documents.
The Sizes And Prices
Measuring 8.5' x 9' x 5.5' inches, there are two styles available:
The Monogram Canvas version is priced at $2280 USD, $2880 CAD, €1680 EUR, £1570 GBP, $18000 HKD, ¥268920 JPY, 16600 CNY.
The calf leather version is priced at $2820 USD, $3600 CAD, €2080 EUR, £1940 GBP, $22300 HKD, 20600 CNY.
More Images And Colors
comnum(0) tbcount(0) tbcount(560)
Categories:
Other Brands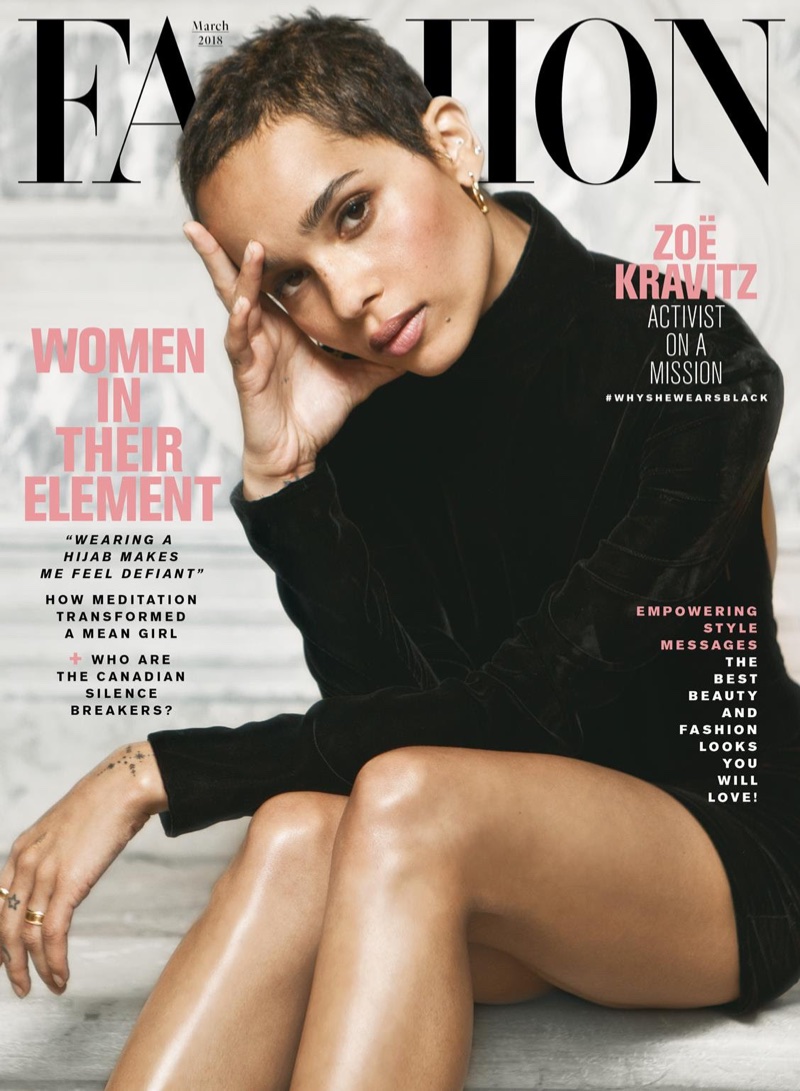 Zoe Kravitz on FASHION Magazine March 2018 Cover
Actress Zoe Kravitz graces the March 2018 cover of Canada's FASHION Magazine. Captured by Elodie Daguin, the 'Big Little Lies' star poses in a black velvet minidress from Saint Laurent. For the accompanying shoot, Zoe impresses in the elegant portraits. As the face of Saint Laurent's spring campaign, the 29-year-old shows off the must-have piece with a shorn hairstyle.
Related: Zoe Kravitz Stars in ELLE, Talks 'Big Little Lies' Co-Stars
COVER SHOOT: ZOE KRAVITZ FOR FASHION MAGAZINE MARCH 2018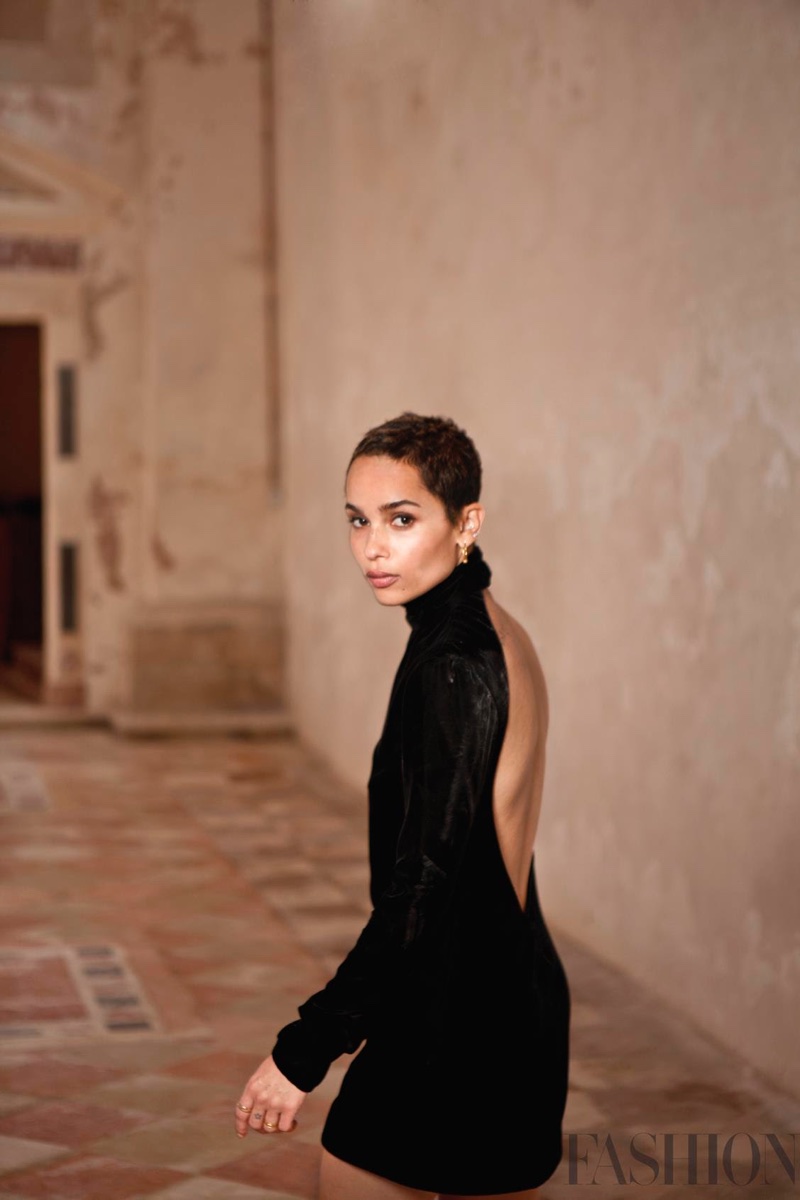 Actress Zoe Kravitz poses in black Saint Laurent dress
ZOE KRAVITZ ON GIRLS WEARING TOO MUCH MAKEUP
In her interview, Zoe talks about young girls who wear too much makeup.
"I see a lot of young women wearing more makeup than they need and all trying to look the same. That makes me very sad. So I guess what I'd like to say to everyone is 'Take these products and make them your own. Don't try to look like someone else—just be yourself.'"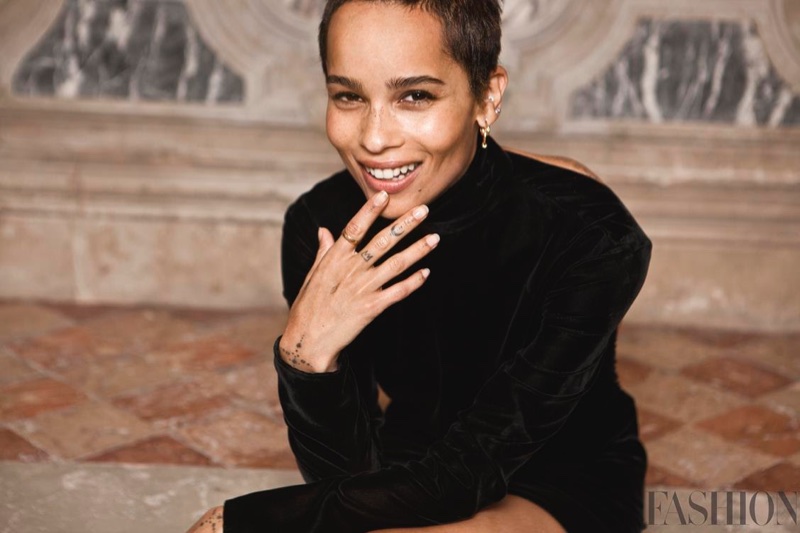 Flashing a smile, Zoe Kravitz poses in Saint Laurent dress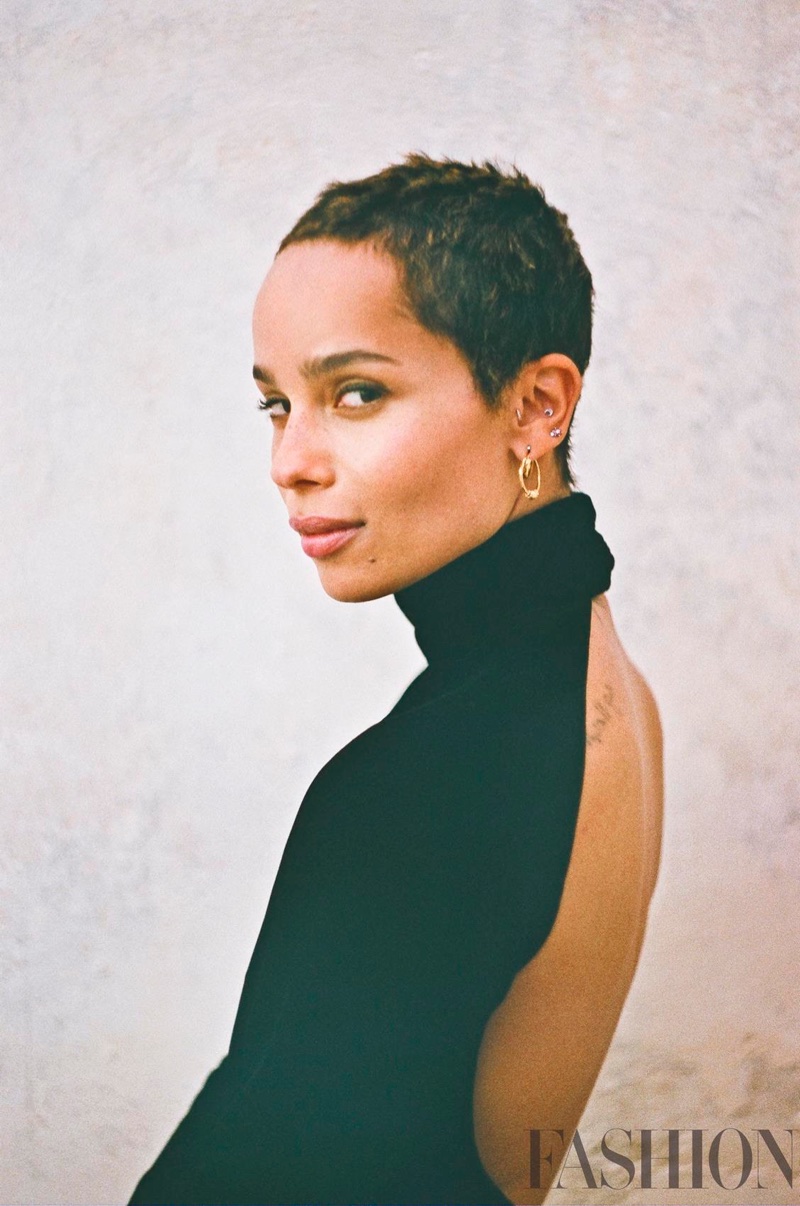 Actress Zoe Kravitz shows off her short hairstyle in this shot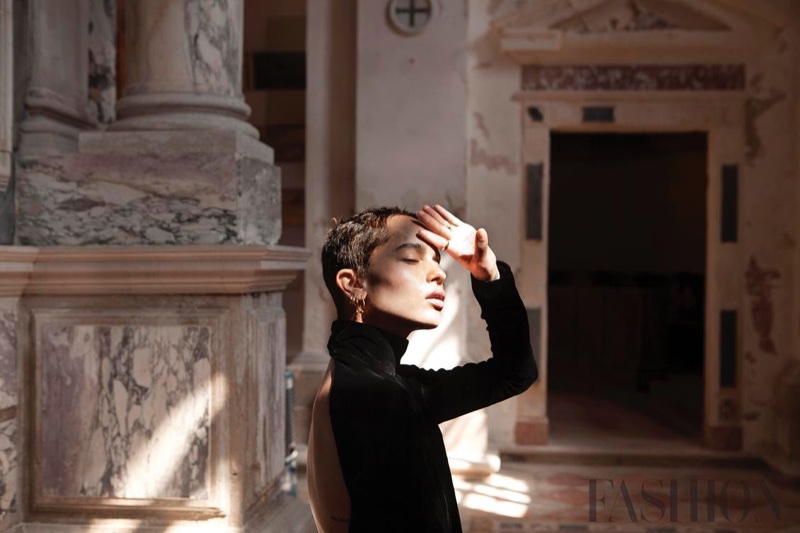 Actress Zoe Kravitz poses for FASHION Magazine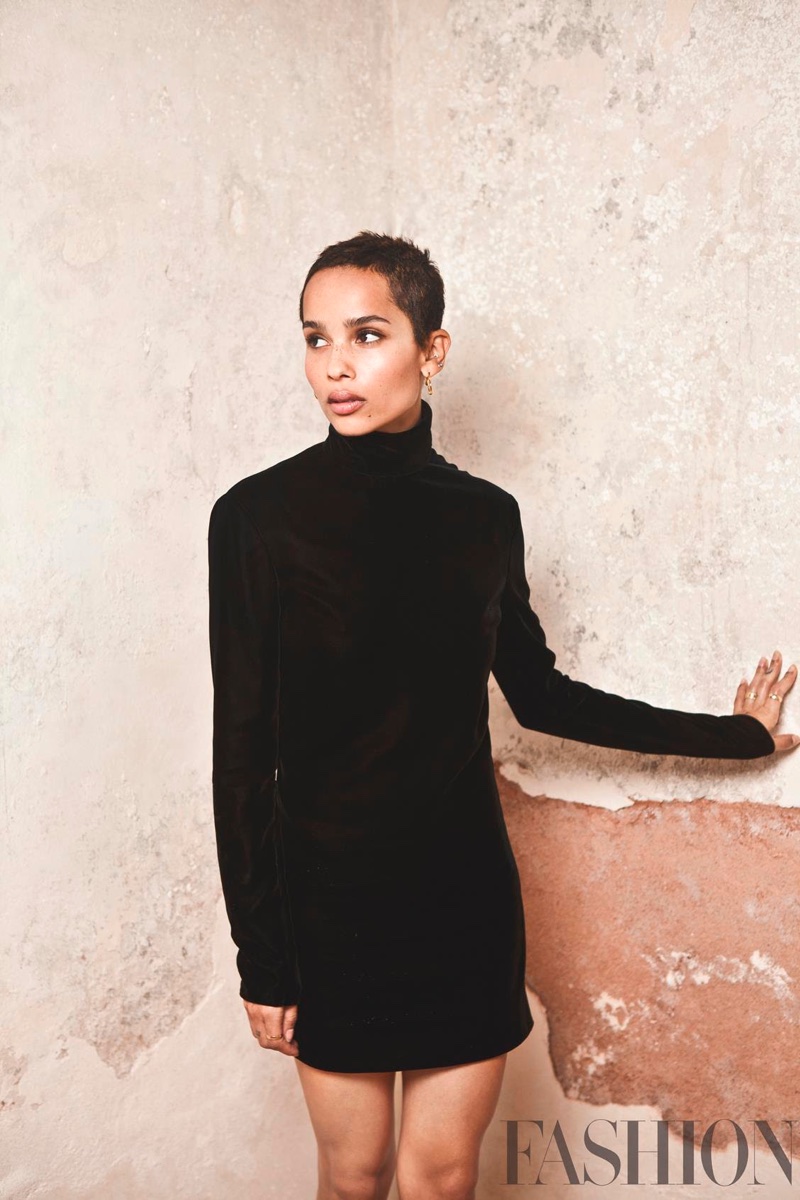 Zoe Kravitz wears black turtleneck dress from Saint Laurent
comnum(0) tbcount(0) tbcount(395)
Categories:
Other Brands
Every woman must have tried to get the perfect pout once in their lifetime using the right lipstick, lip gloss or lip liner. However, dermal fillers are the ideal solution if you want a long lasting solution. They have gained in popularity as a way to enhance lips. Regardless of the character of your lips, the goal to achieve a natural look can be achieved.
Dermal lip fillers in Perth can further be used to work on aging processes, wrinkles and rectify smoker's lines around the mouth. Lip augmentation treatment brings back the natural outline and definition that has been destroyed with time.
Lip enhancement is a cosmetic procedure that is utilized for addition of volume and substance to the lips. It gives a plumper, fuller and well defined look to the lips. It cannot only enhance the lips but also improve overall appearance by maintaining the balance of face perfectly.
Essentially, lip fillers work on improving:
• Vermillion border which enhances the outline and improves the definition. It even works on minimizing lip bleeding.
• Upper and lower lips and injected which adds more volume. Even more substance is added to the lips.
• A well-defined cupid bow enhances the female lips adding more balance and character.
• Philtrum ridges are enhanced by adding fillers which defines the features of lips more effectively.
Having dermal fillers in the lips can sometimes sound dreadful and make people nervous. Many people visualize it as having inflated lips but the reality is entirely different. A clinic always discuss what needs to be done. A trained practitioner guides on different aspects of injectable treatments and ensure that clients are satisfied completely.
Photo: Pixabay
Why are dermal fillers ideal?
Dermal fillers are ideal due to many aspects. Some of them are:
• Fillers are distinctively formed to give lips fullness and definition.
• Injections are entirely controlled. It is up to the customer whether he/she wants a dramatic, subtle or something in-between appearance.
• Natural looking results are acquired by just one treatment.
• Lips injections can be utilized to work on uneven and unbalanced lips.
A natural substance named hyaluronic acid is found in our body which is the basic fundamental of every dermal filler. They are used to enhance the shape, volume and structure of lips.
The best thing about lip fillers is that it brings change very quickly. The results are immediate. Injections may result into normal swellings but once it wears down, the effects of fillers are easier to notice. There is no need to wait for weeks and months to figure out the difference. However, these results are not permanent and needs frequent repetition.
There is a number of services available that can help you to choose cosmetic procedures for body and face. However, make sure that they are chosen with immense care and caution. Since not all of them are certified to do so, ensure their legitimacy and reputation. This will allow you to put your hands on valuable procedure.
comnum(0) tbcount(0) tbcount(446)
Categories:
Other Brands
Important note here. It's the not the CarryAll Bag, which is the signature travel bag. The handbag we're about to talk about, is the Louis Vuitton Carry All Bag. This is a complete new handbag and exclusively pre-launched in Louis Vuitton New Bond Street, Harrods and Selfridges. Basically, the Carry All is a nice tote bag, with endless of space and ideal for day to business use. Introduced for the Spring Summer 2018 Collection, read on!
The Design
The Carry All Bag is inspired by the House travel heritage. It's crafted in either Monogram Canvas, but it's also available in Grained Calfskin. The objective of the designer is to create a roomy and modern handbag that is also ideal to use for work or business trips.
What's more? It features the signature Toron leather handles including a removable leather strap. The center is crafted with lock and key for the elegant look. The lock is also attached to a golden chain, which connects to the side.
You can tote this bag, but also carry it on your shoulder or cross body thanks to the removable leather strap. So what do you think?
The Interior
The purpose of this handbag is to help you transport as many necessities as possible. Therefore the interior is made with one large compartment, but there is also a double pocket on the front and an inside flat pocket on the back. The back pocket is perfect to store an iPad.
The Prices And Sizes
Louis Vuitton Carry All MM Bag
Size: TBD
Prices: €1980 EUR, £1840 GBP, $22000 HKD, ¥314280 JPY, 20500 CNY.
Louis Vuitton Carry All GM Bag
Size: TBD
Prices: €2880 EUR, £2680 GBP, $32000 HKD, ¥456840 JPY, 29900 CNY.
More Images And Colors
comnum(0) tbcount(0) tbcount(443)
Categories:
Other Brands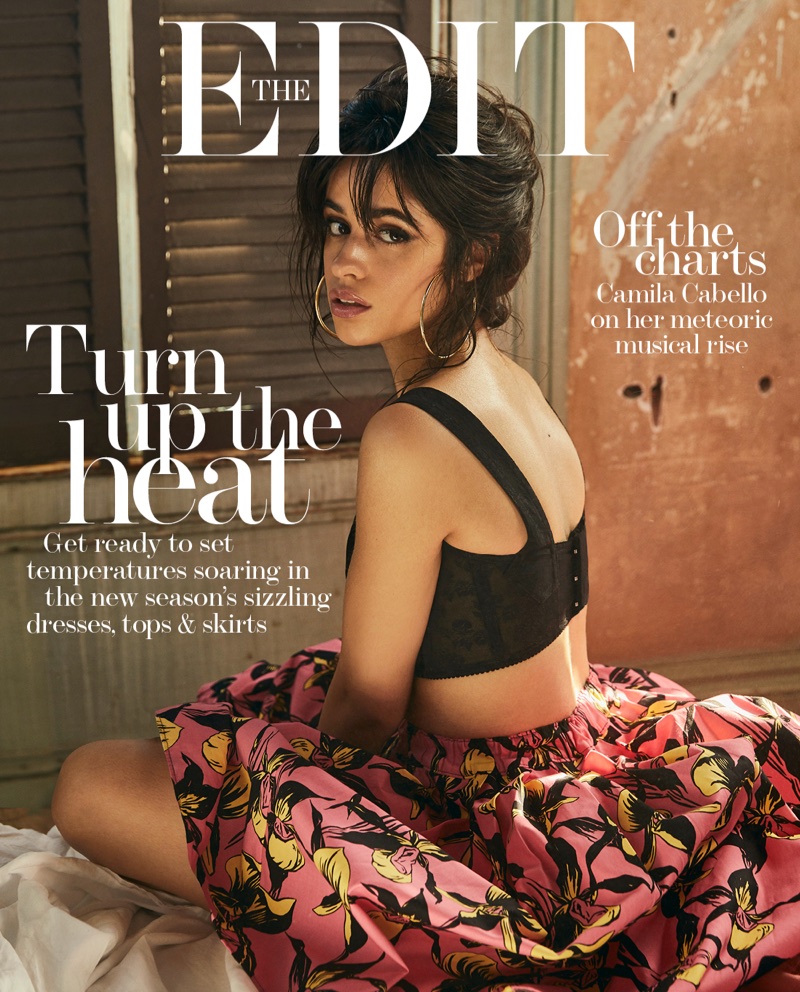 Camila Cabello on The Edit January 25th, 2018 Cover
Pop star Camila Cabello lands the January 25th, 2018 cover of The Edit from Net-a-Porter. Captured by An Le, the Cuban-American beauty wears a Dolce & Gabbana crop top with a printed skirt from Prada. In the accompanying fashion shoot, Camila puts on tropical inspired fashions. Stylist Tracy Taylordresses the brunette in designs from the likes of Versace, Zimmermann and Johanna Ortiz.
Related: Camila Cabello Gets Festive in Guess' Holiday 2017 Campaign
COVER SHOOT: CAMILA CABELLO BY AN LE FOR THE EDIT JANUARY 2018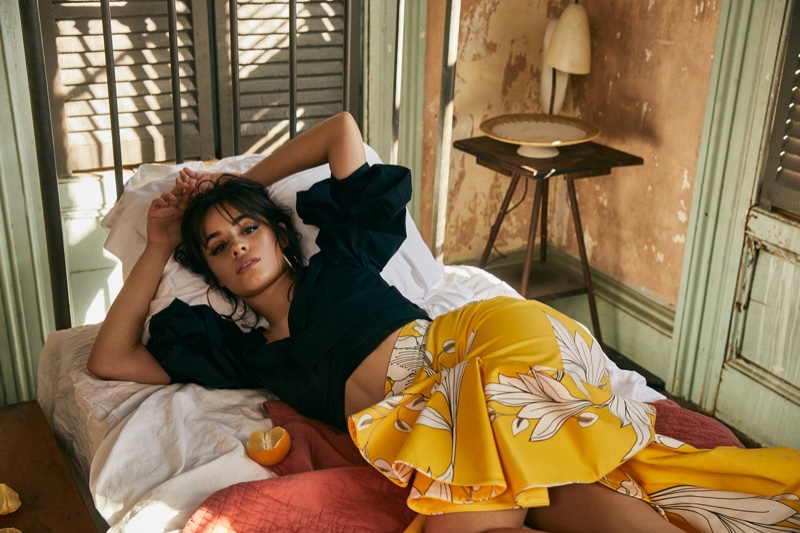 Singer Camila Cabello wears Jennifer Fisher Earrings, Johanna Ortiz top and skirt
CAMILA CABELLO ON FINDING HER VOICE IN FIFTH HARMONY
In her interview, Camila opens up about her experience songwriting while being in the girl group Fifth Harmony.
"With the experiences we had being in the studio, I became super-curious about songwriting and it was around the time – I think it was the second year that I was with the group – that I wanted to start songwriting for other people. But once I was old enough to experience my first kiss, or the first time that I went out on a date, I began writing songs about it, and I didn't want to give them away to anybody else because they were about me. I was finding my voice, and with it, I found the passion that gives you a deeper meaning."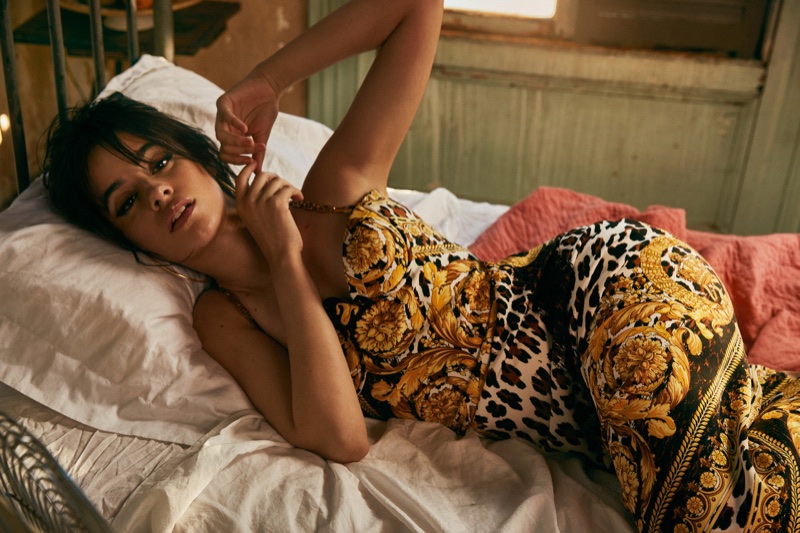 Posing in bed, Camila Cabello wears Versace dress and Jennifer Fisher earrings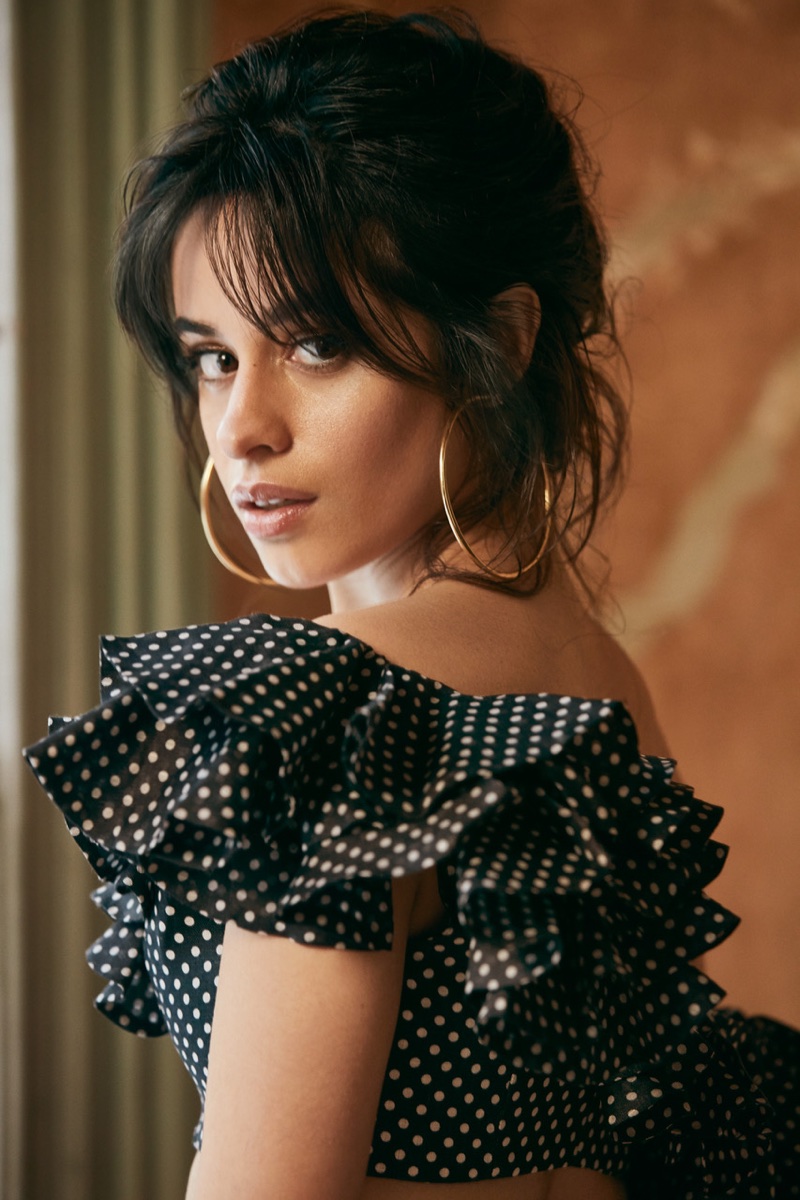 Camila Cabello poses in Zimmermann ruffled top and Jennifer Fisher earrings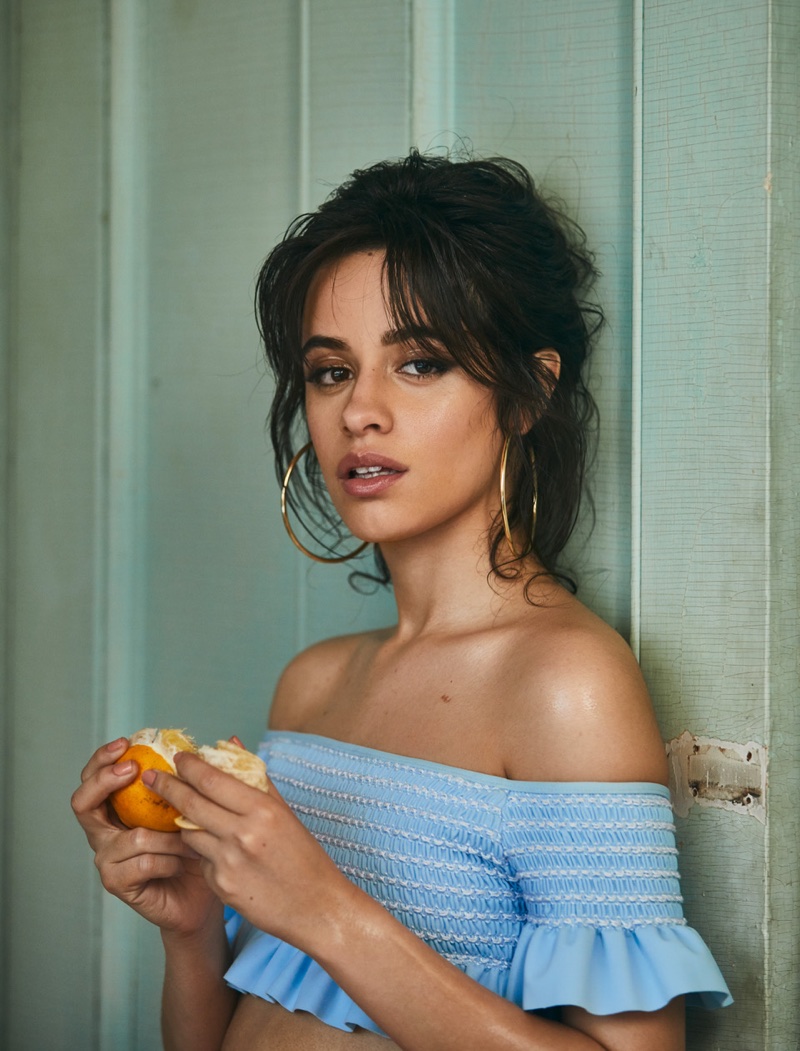 Flaunting some shoulder, Camila Cabello poses in Jonathan Simkhai top and Jennifer Fisher earrings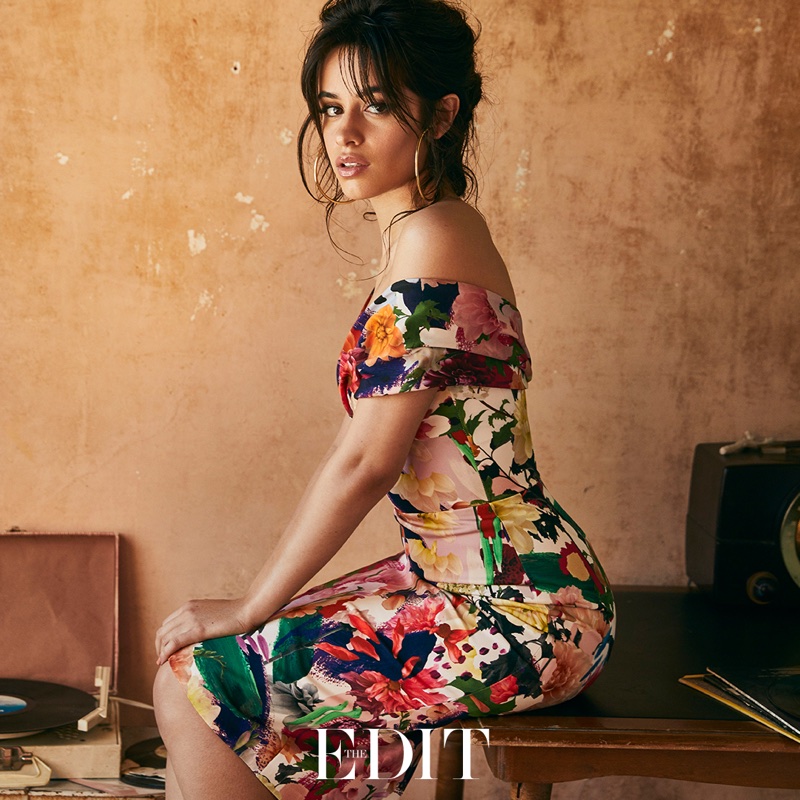 Camila Cabello wears Cushnie et Ochs dress and Jennifer Fisher earrings
comnum(0) tbcount(0) tbcount(454)
Categories:
Other Brands
Model Luma Grothe graces the February 2018 cover of ELLE Serbia. The Brazilian beauty turns up the heat in a fringe and lace embellished jumpsuit from The Dollhouse Fashion. Photographed by Greg Swales, Luma poses in red style from head to toe in the accompanying spread. Stylist Arnold Milforddresses the L'Oreal Paris face in the designs of Dior, Zuhair Murad, Larucci and more.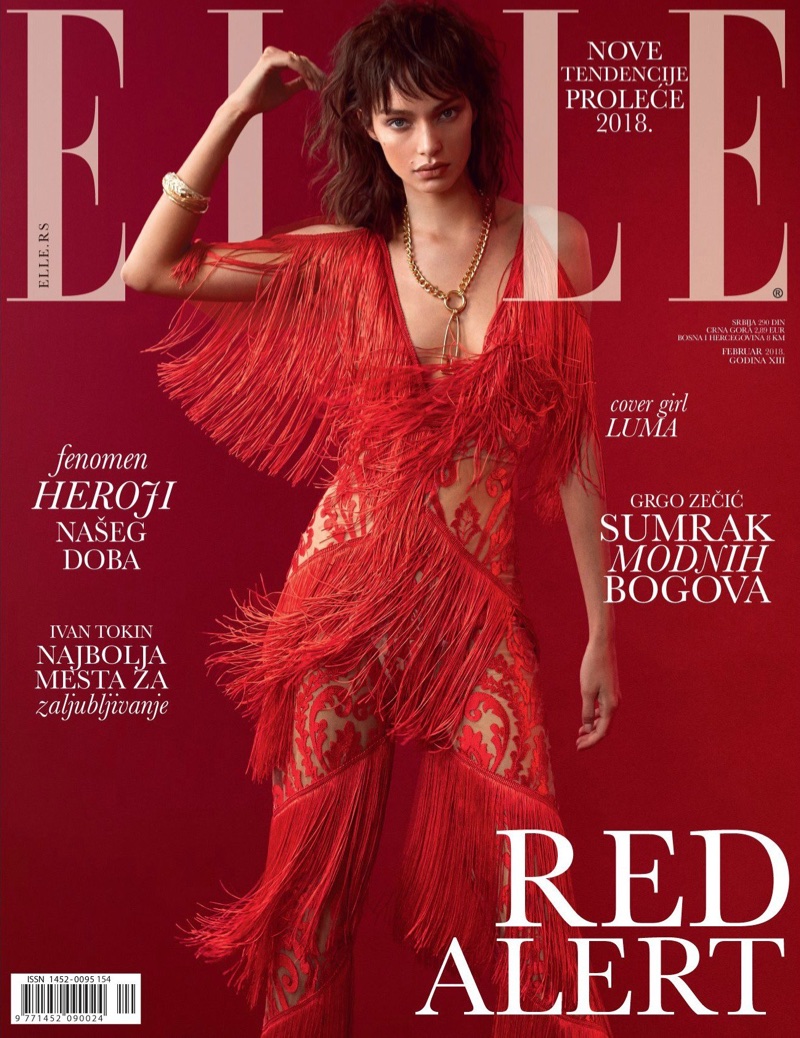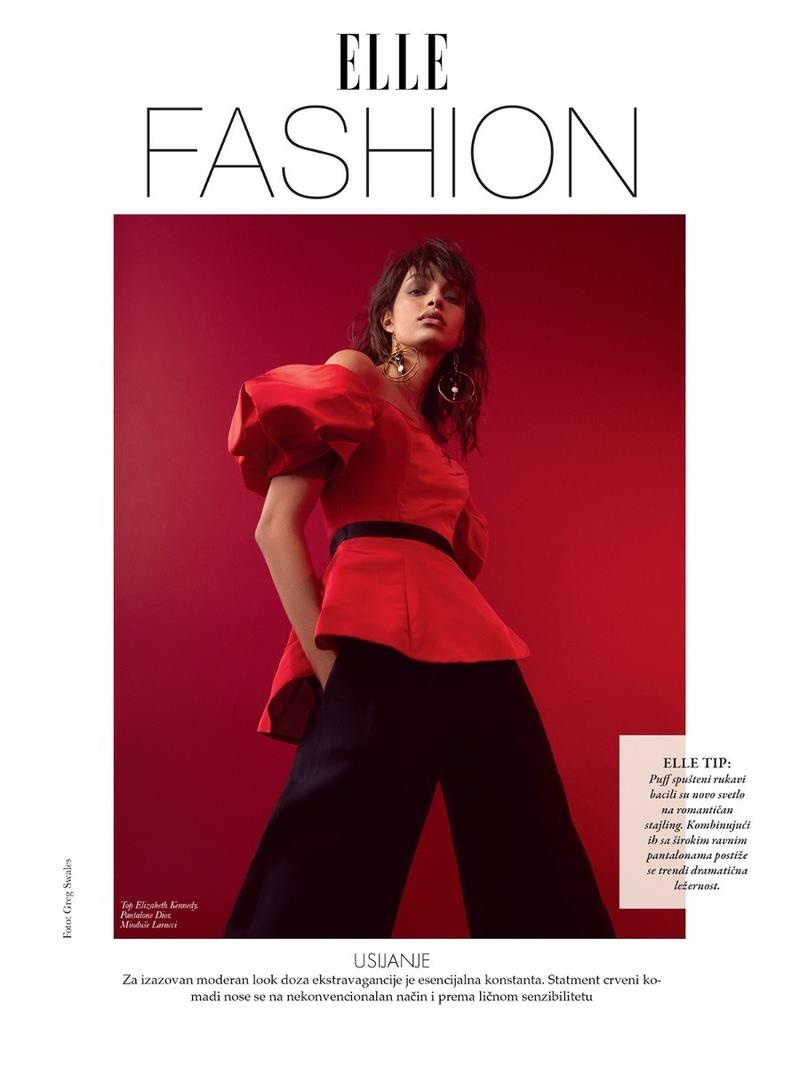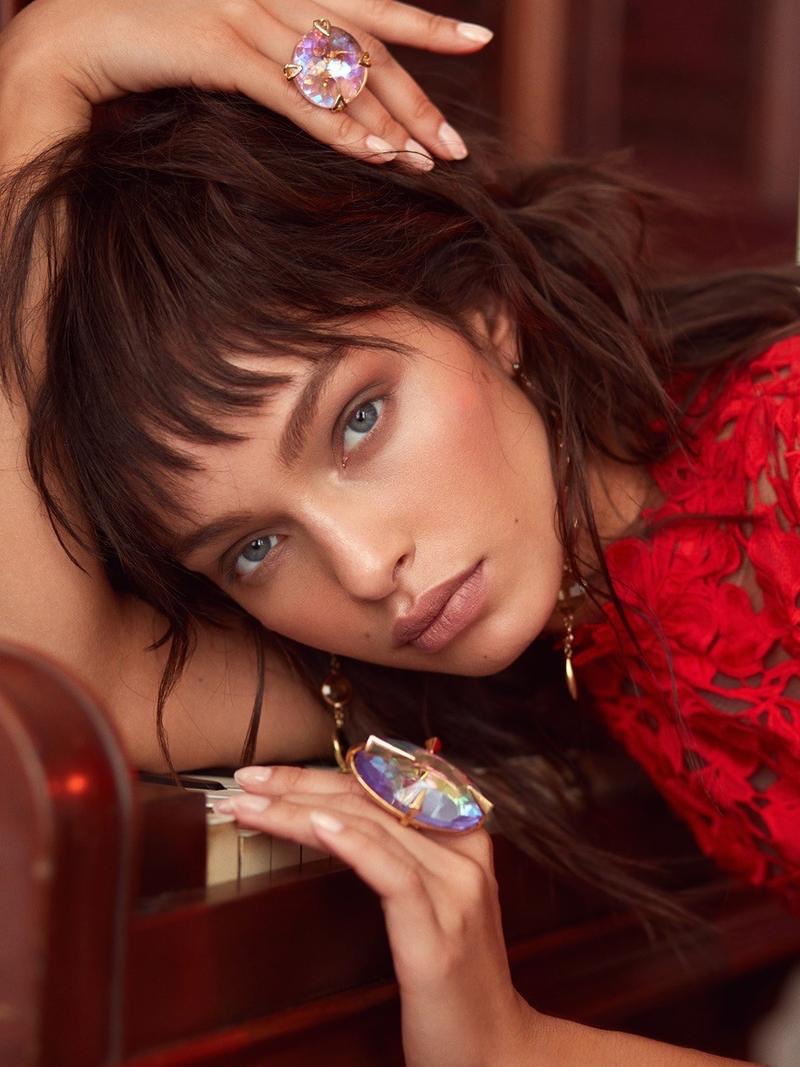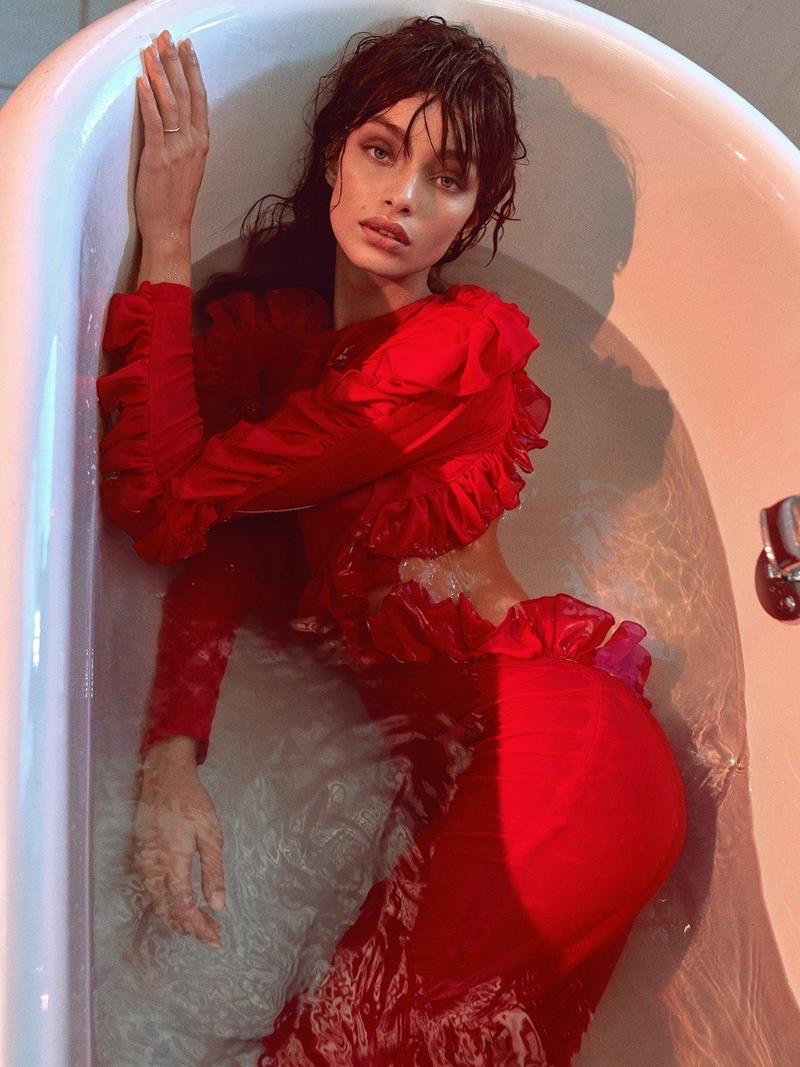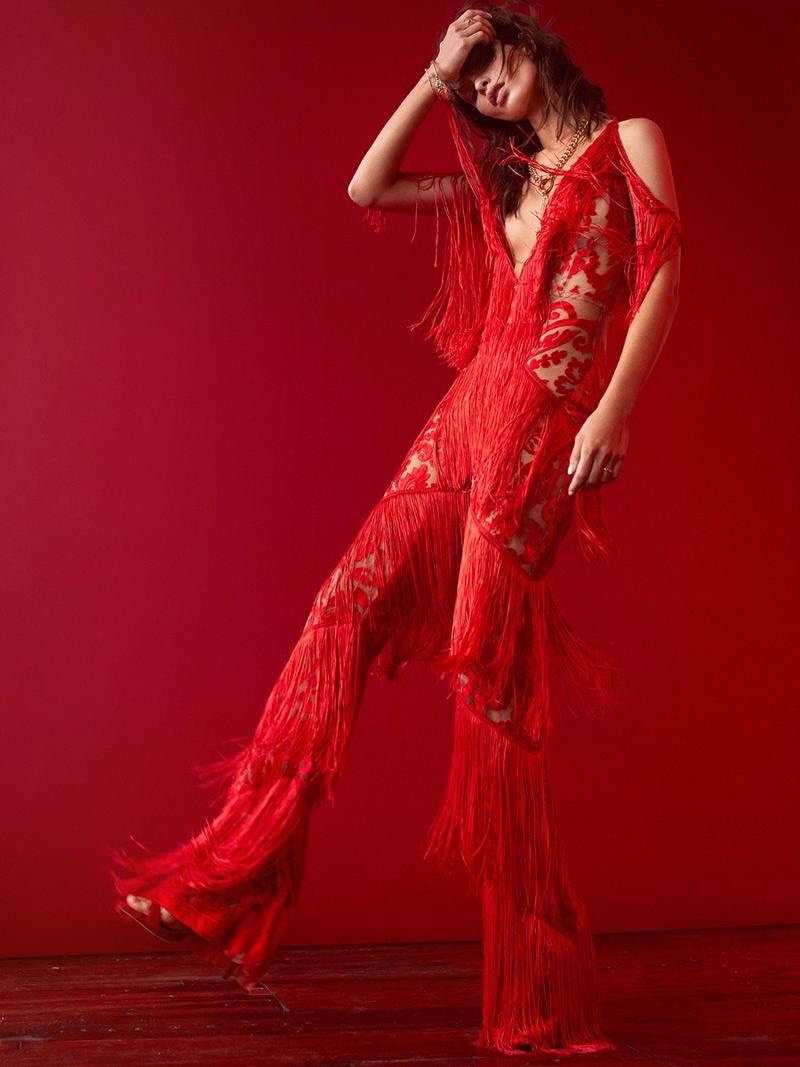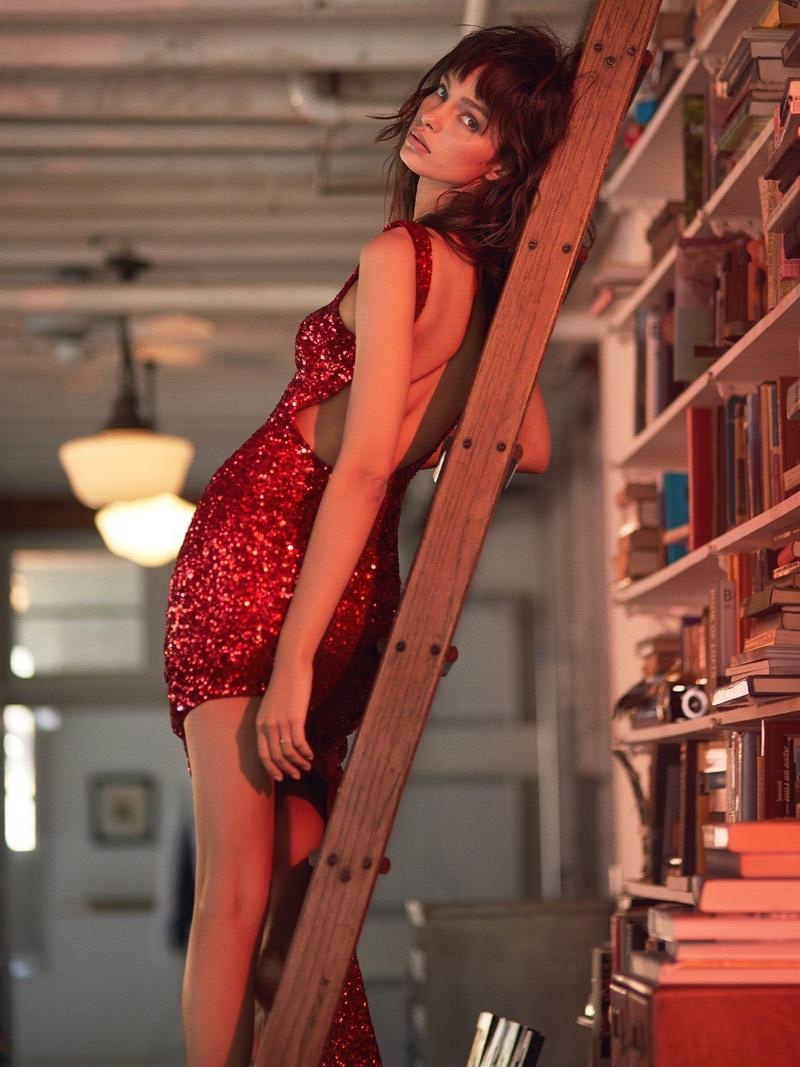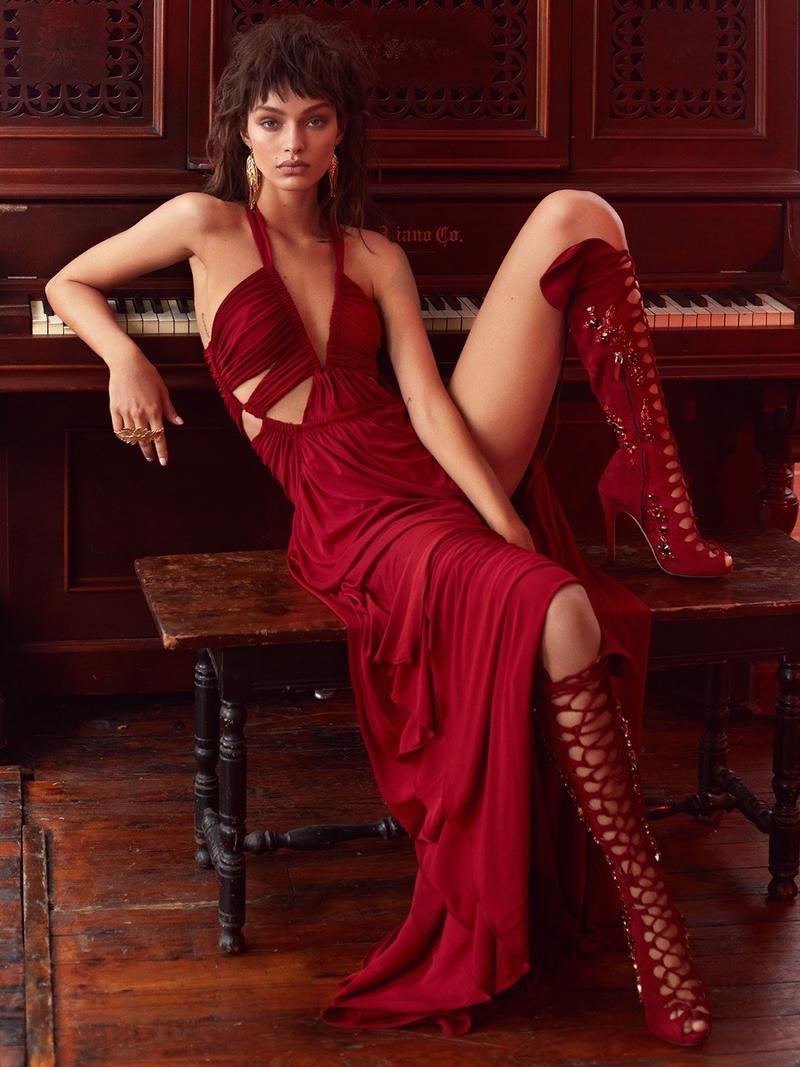 Categories

New Posts

Hot Posts